Portable Dishwasher Buyer's Guide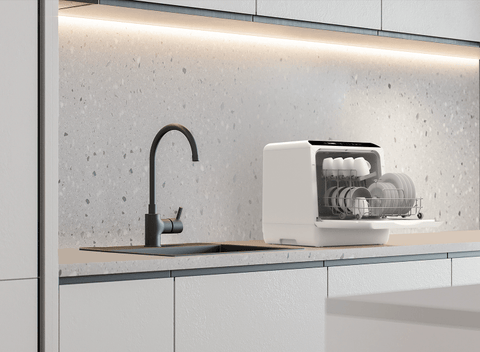 Introduction
Do you ever wish to have a portable countertop dishwasher?
After a hectic day at work, when you get home and find a pile of dishes in the sink waiting to be washed, anyone would wish they had something to help with that. Nowadays, working professionals have such busy lives that household chores are being handed over to smart appliances. Even dishwashers have become a necessity, not just a nice-to-have device. Traditional dishwashers are fixed to one location, and occupy quite a large dedicated space in the utility area of your home. In addition to being space-consuming, you will also need dedicated plumbing and electrical connections for the dishwasher. With homes in large cities becoming more and more expensive, the space available in urban homes is quite restricted, so reserving an area just for a dishwasher is usually not feasible. This does not imply, however, that you have no other options at all. The next best and practical option would be a countertop dishwasher or a tabletop dishwasher, both of which are excellent choices. This type of over-the-counter dishwasher has pretty much the same features as built-in models. Every household today will have a dishwasher installed, so making the right choice depending on your type of usage and needs is very important, no matter if you are part of a small family or a large one.
In the rest of this article, we will share with you the available types of small portable dishwashers available, explain how countertop dishwashers work, and how to use portable dishwashers.
Part 1: Types of Portable Dishwashers
This type of handy portable dishwasher is very similar to the built-in models in almost all aspects. They tend to be a bit slimmer in size, but will have the same internal setup that allows for different sizes of cutlery, crockery, and a number of place settings as well. They also have features such as hot wash options, multiple programs, and duration settings for the wash cycle. Since it is a stand-up model type of portable dishwasher, you still have to make space for the unit, but you won't need permanent water and electricity installations. These models can be quite large, with space for up to 12 place settings, yet are portable enough to be moved around quite easily.
If you have tighter space constraints in your kitchen and cannot devote space for even a freestanding dishwasher, then the compact and portable countertop dishwasher is the perfect choice for you. As would be expected, the tradeoff for being compact is that the capacity is much lower. However, this smaller size makes the unit quite handy to move about without much effort.
Advantages and disadvantage of each type of dishwasher
Part 2: Advantages and Disadvantages of Each Type of Dishwasher
The choice of a portable dishwasher that you make depends on important factors and will vary depending on which is best suited for your needs and can also be conveniently placed in the available space you have. The primary advantage of non-fixed standing dishwashers is that they offer the same features, high capacity, and efficiency of a comparable built-in variant. This essentially means that you get the best possible value for your money for both functionality with the added advantage of portability.
The disadvantage of these appliances is that if you have very limited space, then it may cease to be a viable option. It will also need proper plumbing and hose connection to function properly.
The convenience factor of these small portable dishwashers is their best advantage, as they can be easily placed on tabletops or countertops and can hook up to the kitchen faucet using a proper connector unit. While the space-saving feature is the biggest appeal, the small size means that the capacity will be quite a bit lower and may not be suitable for households of more than 2 or 3 people.
Part 3: Things to Consider When Choosing a Portable Dishwasher
Type
Based on the size of your household and the likely space (or lack of space) available in your kitchen, the type of the portable dishwasher you choose will be a key factor.
Water source
No matter what type of dishwasher you choose, portable dishwashers will always need a hot water source to yield the best results. As this is very important, you should check whether the dishwasher's coupling mechanism will fit your kitchen faucet. In some cases, an adapter is provided that can fix the hose to your faucet. In either case, when choosing a portable dishwasher, always double-check the different types of taps the hose coupler fits. In case it does not fit, check for an adapter, and what types of faucets the adapter fits into. It would also be prudent to contact a plumber who can provide you with a cost-effective, easy solution of connecting up a small portable dishwasher.
Portability
Since one of the biggest advantages of the portable dishwasher countertop and the portable freestanding dishwasher is their portability, this should be taken into consideration when shopping, as some portable freestanding dishwashers can weigh 50 pounds or more! This can be a big problem if you will have to move the portable dishwasher over a surface such as carpet or linoleum. Countertop dishwashers, on the other hand, can weigh anywhere from 10 pounds to 50 pounds. Usually, for higher quality washing and large capacity needs, a countertop dishwasher that is also easy to move is a good aspect to consider. Besides the weight, look for easy-grip handles and other features that make your dishwasher easy to maneuver.
Noise
Modern portable dishwashers dispose of wastewater into the sink rather than through concealed piping, and this can be noisy. Customers always prefer that their dishwasher is as quiet as possible. Portable dishwashers today have a noise rating of 55 dB or so, similar to a microwave. When choosing a countertop or freestanding dishwasher, the preferred noise level rating should be in the range of 50 dB to 60 dB. Anything higher can be quite annoying and will end up as a nuisance to occupants of the home.
Water consumption
Portable dishwashers use only a fraction of water when compared to manually washing dishes. it is important to find out which dishwashers suit your needs and will use the least amount of water. The manufacturers provide this information on the per load water consumption, which you can use to assess usage efficiency. Some portable dishwasher models have an eco-friendly mode that uses less water. In general, the available freestanding portable dishwashers use about three gallons of water per load, while countertop models use about two.
Energy consumption
It is always good practice to be eco-friendly and use appliances with high Energy Star ratings. Manufacturers generally provide exact energy consumption ratings for their portable dishwashers. Compare the models that fit your needs and choose one with low energy consumption. Buying an environmentally friendly dishwasher will also decrease the cost of energy bills as these appliances can be used multiple times a day.
Tub material
The inside tub of your portable dishwasher can be made of either plastic or stainless steel. A stainless steel interior is superior to a plastic one for several reasons. Stainless steel resists corrosion and is more durable than plastic. If your portable dishwasher has high daily usage and generally will be using hot wash options, a steel tub is preferable, as it has much better heat retention. They also tend to be quieter and resist stains and odors in the countertop or freestanding dishwashers. Plastic tub dishwashers are usually cheaper than steel tubs, though this is usually the only benefit. However, if your needs are not extreme in use, and the savings are considerable, a plastic tub portable dishwasher will usually work just as well.
Features
The portable countertop dishwasher features of best interest are:
Wash Cycles– the options of wash cycles such as "pots and pans," "quiet," and "eco-friendly" cater to the different types of washes the countertop dishwasher can perform.
Place Settings and Tray Layout– Choose based on how many place settings per load you would be using regularly.
Delayed Start – A timer feature for the countertop portable dishwashers is very handy. With this feature, you can set it to begin at whatever time you desire.
Hard Food Disposer – This feature removes any hard pieces of food stuck to the dishes and disposes of them.
Part 4: Three Recommended Portable Dishwashers
1. Farberware FDW05ASBWHA Complete Portable Countertop Dishwasher
The Farberware portable countertop dishwasher comes highly recommended. Its compact design makes it suitable for small-sized houses, apartments, dorms, boats and campers/RVs. It can be used with a hose connected to a faucet, or it can be truly portable as it has a 5-liter integrated tank. It weighs in at around 45 pounds and can handle two place settings with five standard cycles.
Pros
Integrated 5-liter tank
Works with any type of dishwasher detergent
Fruit wash option
Holds cutlery securely, even during a heavy cycle
Can use the included hose to hook up to a faucet
Purchase the dishwasher package by itself, or with detergent, microwave cart, or a snap coupling adapter for the hose.
Cons
Doesn't come with a rinse aid dispenser
Significantly smaller capacity that others in the same price range
2. HAVA Compact Countertop Dishwasher
Pros
Small size with large capacity
Baby care mode and fruit mode available
Supports both a faucet mode and tank mode
Has a speed wash mode
3-in-one function: wash, dry, and ventilation modes
Cons
Made from plastic materials
May not be energy efficient enough for daily usage
3. Danby Countertop Dishwasher
This is a great, budget-friendly portable countertop dishwasher.
Pros
Good Energy Star rating
Low water consumption
Automatic dispenser for detergent and rinse aids
LED display
6 wash cycles – Heavy, Normal, Light, Glass, Speed, Blue Bear
Stainless steel interior
Weight: 50 pounds
Noise: 55 dB
Dimensions: 19.7 x 21.6 x 17.2 inches (50 x 54.8 x 43.68 cm)
Cons
Large dishes are hard to load
Conclusion
Now that you have a basic understanding of how a portable dishwasher works and how a countertop or freestanding dishwasher works, we hope you are better poised to make the right choice for your needs at home.
Other Recommend Blogs
10 Best Portable dishwasher under $500

Introduction  Buying the best dishwasher will save you time and money. All things considered, dishwashers are live savers; having one at home means...