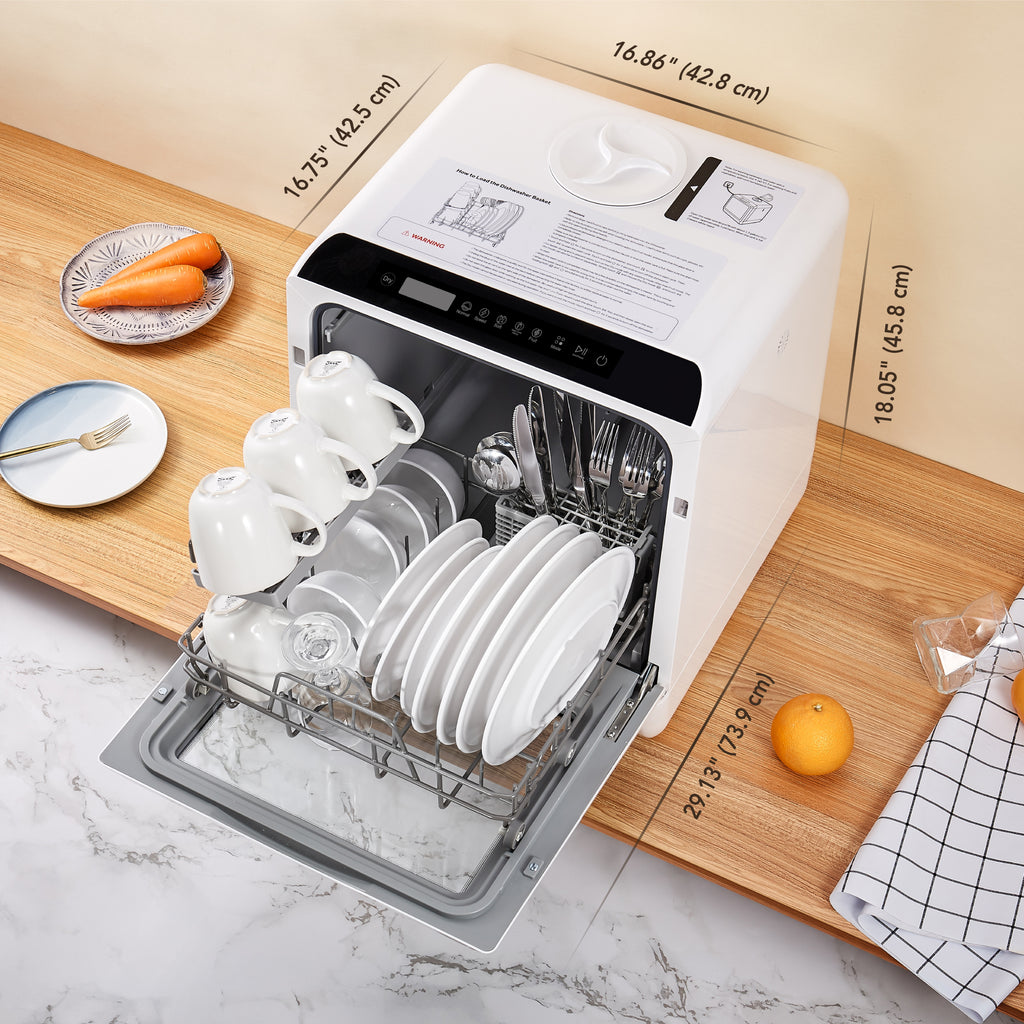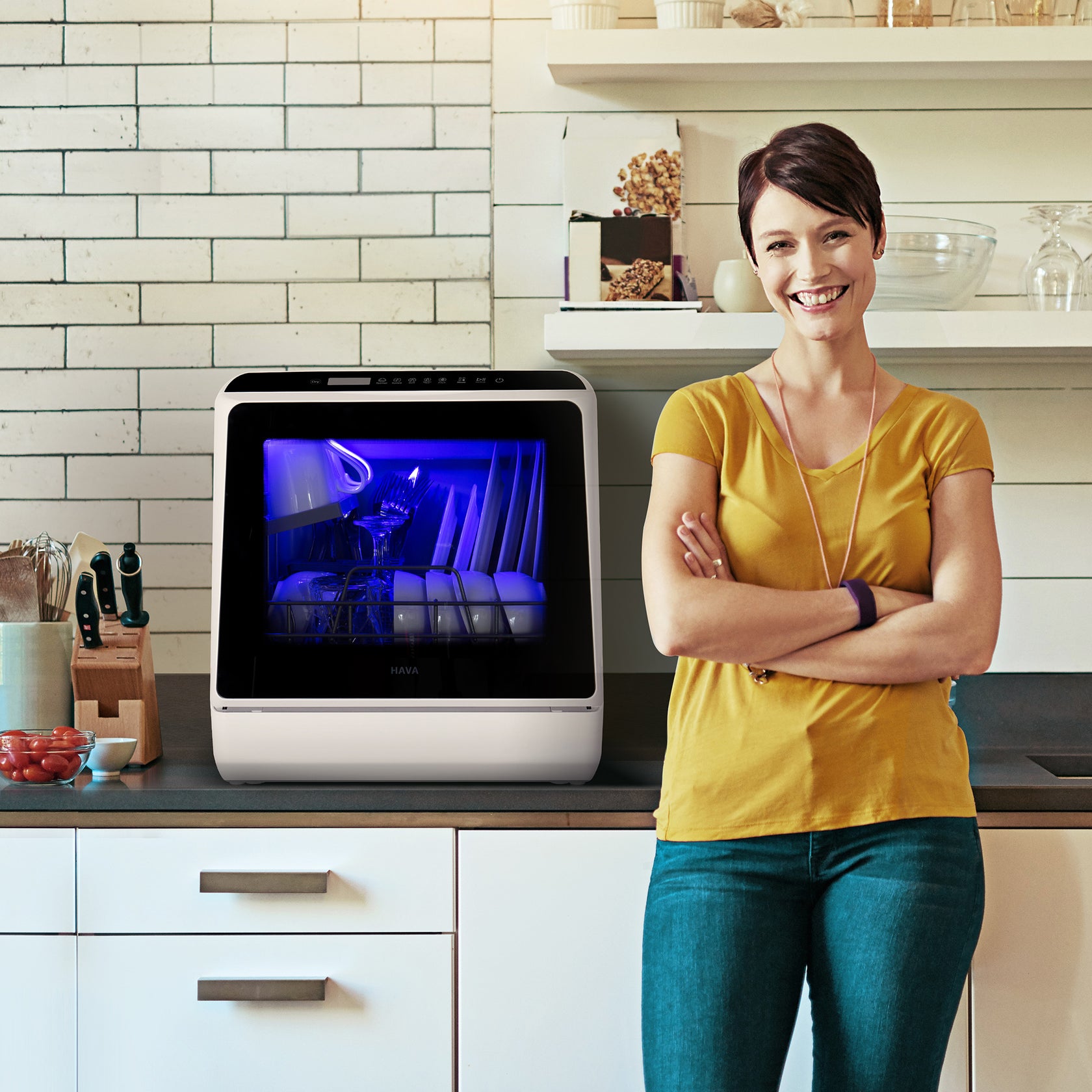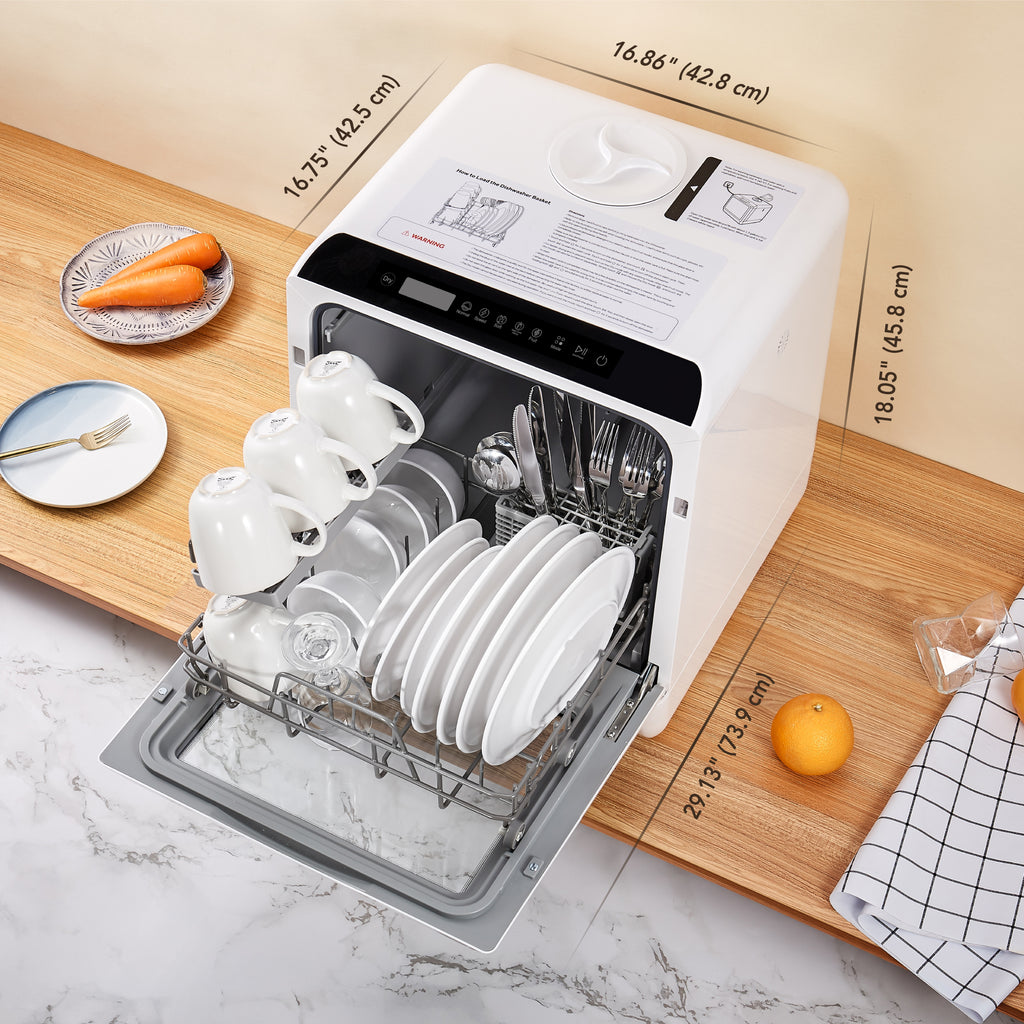 HAVA R01 Compact Countertop Dishwasher Bundle
This bundle includes two HAVA R01 Countertop Dishwashers.
•16.86'' x 16.75'' x 18.05'' (L/W/H) in size for families of 2-3
• 5 L tank water supply with pitcher or faucet connection
• Plumbing and installation free Ce lot comprend deux lave-vaisselle de comptoir HAVA R01. Ce mini lave-vaisselle d'un excellent rapport qualité/prix a été pensé pour les studios, les dortoirs, les camping-cars et d'autres espaces limités. Dieses Paket-Angebot beinhaltet zwei HAVA R01 Tischgeschirrspüler. Dieses Gerät mit 5 Spülprogrammen ist die ideale Lösung für das Geschirrspülen in Single-Haushalten, kleinen Küchen und Wohnmobilen.
💰Buy Two at Once, Unlock Great Savings!
💰Deux d'un coup, économies considérables!
💰Zwei auf einmal, große Ersparnisse!
Fast & Free Delivery Livraison rapide et gratuite Schneller & kostenloser Versand

HAVA offers free shipping to the 48 contiguous states of the US and all EU countries. A shipping fee of $208 CAD will be charged for orders from Canada. Orders will be delivered within 5 business days.

HAVA offre une livraison gratuite dans les 48 États contigus des États-Unis et dans tous les pays de l'UE. Les commandes sont livrées dans un délai de 5 jours ouvrables.

HAVA bietet Gratisversand in die 48 zusammenhängenden US-Bundesstaaten sowie in alle Länder der Europäischen Union. Bestellungen werden innerhalb von 5 Werktagen geliefert.
12-Month Warranty Garantie de 12 mois 12 Monate Garantie

Shop with peace of mind and enjoy HAVA's buyer protection against all manufacturing defects for 12 months after purchase.

Payez en toute tranquillité et profitez de la protection des acheteurs de HAVA contre tous les défauts de fabrication pendant 12 mois après l'achat.

Dank HAVAs Käuferschutz bei Herstellungsfehlern für 12 Monate können Sie ohne Bedenken einkaufen.
Lifetime Technical Support Assistance technique à vie Lebenslanger technischer Support

Feel free to contact us at service@havalab.com, and our expert team is ready to solve any problems you may have.

N'hésitez pas à nous contacter à l'adresse suivante : service@havalab.com. Notre équipe d'experts se tient à votre disposition pour résoudre tous vos problèmes.

Gerne können Sie uns unter service@havalab.com kontaktieren. Unser Expertenteam steht Ihnen bei allen Problemen zur Seite.
Highlights

Description

Highlights

Specifications

Spécifications

Spezifikationen

Packaging

Emballage

Lieferumfang

Q & A

Q & R

Q & A

Reviews

Commentaires

Bewertungen
2 Water Supply Options

2 possibilités d'alimentation en eau

2 Optionen für die Wasserversorgung

The built-in tank can be filled either by connecting to a faucet or the pitcher provided without any plumbing work

Le réservoir intégré peut être rempli en le raccordant à un robinet ou en utilisant le pichet fourni, aucun travail de plomberie n'est nécessaire.

Der eingebaute Wassertank kann entweder über einen Wasserhahn oder die mitgelieferte Kanne befüllt werden.
Generous Capacity for Tableware for 2-4

Nettoie toute la vaisselle pour un maximum de 3 personnes

Reinigt Geschirr für Familien mit 1–3 Personen

Although it's only 17 x 17 x 18 inches, this dishwasher can hold 4 bowls, 4 cups, 8 plates, and 7 sets of flatware

Ce lave-vaisselle mesure seulement 42,8 x 42,5 x 45,8cm (L x l x H), mais peut accueillir 4 bols, 4 tasses, 8 assiettes et 7 jeux de couverts.

Der Geschirrspüler misst nur 42,8 x 42,5 x 45,8 cm (B/H/T), fasst jedoch 4 Schüsseln, 4 Tassen, 8 Teller und 7 Besteckteile.
Superb Performance, Versatile Solution
Performances exceptionnelles, solution polyvalente
Hervorragende Leistung, vielseitige Lösung
Getting shiny tableware every day has never been this simple. Obtenir de la vaisselle propre et brillante tous les jours n'a jamais été aussi facile. Es war noch nie so einfach, jeden Tag Geschirr glänzend sauber zu bekommen.
5 Washing Programs
5 programmes de lavage
5 Spülprogramme
From greasy dinner plates to wine glasses, from baby bottles to fresh fruits, there is always an option that perfectly suits your washing task.
Des assiettes grasses aux verres à vin, des biberons aux bols de fruits frais, ce lave-vaisselle vient à bout de toutes les saletés.
Von fettigen Speisetellern bis hin zu Weingläsern, von Babyflaschen bis hin zu frischem Obst, es gibt immer einen Waschzyklus, der Ihren Spülanforderungen gerecht wird.
Dual Spray Arms & 360° Rinsing
Double bras d'aspersion et rinçage à 360 degrés
Duale Sprüharme und 360°-Spülung
Pressurized hot water from the rotating spray arms removes stubborn food residues with ease and makes your dishes sparkling clean again.
Les bras de pulvérisation comportent 14 sorties d'eau chaude d'une pression de 11.100 Pa pour obtenir une vaisselle étincelante.
Das glänzende Spülergebnis wird versprochen, wenn 11.100 Pa heißes Wasser unter Druck gleichmäßig aus den 14 Wasserauslässen in den Sprüharmen kommt.
Hot Air Drying & Ventilation
Séchage et ventilation à l'air chaud
PTC-Heißlufttrocknung und Belüftung
A 60-minute drying automatically follows each wash cycle (except Fruit), and when activated a 72-hour ventilation ensures sanitary storage.
Un séchage de 60 min est automatiquement activé après chaque cycle de lavage (sauf en mode Fruit), suivi d'une ventilation de 72 h qui stérilise l'intérieur
Nach Beendigung jedes Spülgangs (außer Obst-Modus) wird automatisch eine 60-minütige Trocknung aktiviert, und eine 72-stündige Belüftung sorgt für eine hygienische Aufbewahrung.
Thoughtful Details, Rich Benefits
Détails bien pensés, efficacité garantie
Durchdachte Details, viele Vorteile
A more enjoyable user experience, delivered.
Une expérience utilisateur plus agréable.
So innovativ ist HAVA R01, der sich um Ihr Handabwasch kümmert
The 5 L built-in water tank means that it uses about 75% less water than washing dishes by hand
Cet appareil doté d'un réservoir de 5 L consomme moins d'eau qu'un lavage à la main
Der integrierte 5-Liter-Wassertank spart Wasser im Vergleich zum Geschirrspülen von Hand
The reinforced glass door keeps noise down to only 60 dB
La porte en verre épaisse limite le bruit à 60 dB seulement
Die dicke Glastür reduziert den Geräuschpegel auf nur 60 dB
The outlet hose lets water out to the sink or a bucket, without the need for pipework
Le tuyau de sortie vide l'eau dans l'évier ou dans un seau, sans besoin de tuyauterie
Der Ablaufschlauch leitet das Wasser in die Spüle oder in einen Eimer, sodass keine weiteren Rohrleitungen erforderlich sind
Works perfectly with any type of washing detergent: liquid, powder, tablet, or gel
Compatible avec tout type de détergent : liquide, poudre, pastille ou gel
Funktioniert perfekt mit jeder Art von Waschmittel: flüssig, Pulver, Pads oder Gel
Precisely-built rolling tracks under the dish rack make loading and unloading easy
Le panier à roulettes conçu avec précision facilite le chargement et le déchargement
Präzise gefertigte Rollschienen unter dem Geschirrkorb erleichtern das Be- und Entladen
The tripe filtering system gets rid of clogging and keeps the dishwasher's operations smooth
Le système de filtrage triple évite les obstructions et assure un fonctionnement régulier
Das Dreifache-Filtersystem verhindert Verstopfungen und sorgt für einen reibungslosen Betrieb
Specifications
Spécifications
Spezifikationen
Technical Data

Détails techniques

Technische Details

Dimensions(L/W/H)

16.86 × 16.75 × 18.05 in

(428 x 425 x 458 mm)

Product Weight

28.7 lb (13 kg)

Capacity

4 x serving bowls, 4 x cups, 4 x small plates, 4 x dinner plates, 7 x spoons, 7 x forks and 7 x knives

Power

950 W

Water Tank

Built-in design with 5 L capacity

Noise Level

60 dB

Wash Cycle

5 options

Control Console

Touch buttons

Spray Arm

Upper & lower with 360° rinsing

Lighting

Blue LED

| | | | |
| --- | --- | --- | --- |
| Dimensions | 42,8 x 42,5 x 45,8 cm (L x l x H) | Poids de l'appareil | 13 kg |
| Puissance | 950 W | Source de courant | 220-240V/50Hz |
| Réservoir d'eau | Intégré, capacité de 5 L | Niveau de bruit | 60 dB |
| longueur de câble | 140 cm | Cycles de lavage | 5 options |
| Tableau de bord | Touches tactiles | Éclairage | LED bleues |
| Bras de lavage | 1 haut et 1 bas avec rinçage sur 360° | Capacité | 4 x bols de service, 4 x tasses, 4 x petites assiettes, 4 x assiettes plates, 7 x cuillères, 7 x fourchettes et 7 x couteaux |




| | | | |
| --- | --- | --- | --- |
| Abmessungen | 42,8 x 42,5 x 45,8 cm (B/T/H) | Produktgewicht | 13 kg |
| Stromverbrauch | 950 W | Stromzufuhr | 220-240V/50Hz |
| Fassungsmögen | 5 Liter | Geräuschwert | 60 dB |
| Kabellänge | ca. 91 cm | Spülprogramm | 5 |
| Steuerung | Touch-Bedienfeld | Beleuchtung | Blaue LED |
| Sprüharm | Ober- und Unterteil mit 360° Spülung | Nennkapazität | 4 x Schüsseln, 4 x Tassen, 8 x Teller, 7 x Löffel, 7 x Gabeln, 7 x Messer |



Wash Cycles

Cycles de lavage

Waschzyklus

Wash Cycle

Description

Wash Steps

Temperature

Detergent

Wash Time

Air Drying Time

Normal

To clean normally soiled loads

Hot water washing

Cold water rinsing

Hot water rinsing

131 °F/55 °C (Washing)

154 °F/68 °C (Rinsing)

0.28 oz (8 g)

69 minutes

60 minutes

Speed

Shorter wash for lightly soiled loads

Hot  water washing

Cold water rinsing

Hot water rinsing

122 °F/50 °C (Washing)

144 °F/62 °C (Rinsing)

0.28 oz (8 g)

29 minutes

60 minutes

Soft

Suitable for washing slightly dirty dishes

Hot water washing

Cold water rinsing

Hot water rinsing

131 °F/55 °C (Washing)

154 °F/68 °C (Rinsing)

0.28 oz (8 g)

59 minutes

60 minutes

Baby Care

/Heavy

Suitable for washing baby bottles, oily and grimy tableware, or pet products

Hot water washing

Hot water rinsing

Cold water rinsing

Hot water rinsing

131 °F/55 °C (Washing)

131 °F/55 °C (Rinsing)

167 °F/75 °C (Rinsing)

0.42 oz (12 g)

89 minutes

60 minutes

Fruit

Suitable for washing hard surface fruit with room temperature water

Cold water rinsing

Cold water rinsing

Constant temperature, no heating

Not required

19 minutes

/

Cycle de lavage

Description

Étapes de lavage

Température

Détergent

Durée de lavage

Durée de séchage

 

Programme Normal


Lavage de vaisselle normalement souillée

Lavage à l'eau chaude

Rinçage à l'eau froide

Rinçage à l'eau chaude

55°C (131°F) (Lavage)
68°C (154°F) (Rinçage)

8 g (0.28 oz)

69 minutes

60 minutes

Programme
Rapide

Lavage plus court pour vaisselle légèrement souillée

Lavage à l'eau chaude

Rinçage à l'eau froide

Rinçage à l'eau chaude

50°C (122°F) (Lavage)
62°C (144°F) (Rinçage)

8 g (0.28 oz)

29 minutes

60 minutes

Programme
Doux

Lavage de vaisselle légèrement souillée

Lavage à l'eau chaude

Rinçage à l'eau froide

Rinçage à l'eau chaude

55°C (131°F) (Lavage)
68°C (154°F) (Rinçage)

8 g (0.28 oz)

59 minutes

60 minutes

Vaisselle Bébés /

Lavage intense

Lavage des biberons, couverts gras et encrassés ou de la vaisselle des animaux de compagnie

Lavage à l'eau chaude

Rinçage à l'eau chaude

Rinçage à l'eau froide

Rinçage à l'eau chaude

55°C (131°F) (Lavage)
55°C (131°F) (Rinçage)
75°C (167°F) (Rinçage)

12 g (0.42 oz)

89 minutes

60 minutes

Lavage de Fruits

Lavage de fruits à pelure/coque dure, à l'eau à température ambiante

Rinçage à l'eau froide et

Rinçage à l'eau froide

Température ambiante
pas de chauffage

Non applicable

19 minutes

/

Waschzyklus

Beschreibung

Wasch-Schritte

Temperatur

Spülmaschinentabs

Waschzeit

Lufttrocknungszeit

Normal

Zur Reinigung normal verschmutzter Ladungen

Waschen mit heißem Wasser

Kaltwasserspülung

Heißwasserspülung

55 °C (Waschen)

68 °C (Spülung)

8 g

69 Minuten

60 Minuten

Geschwindigkeit

Kürzere Wäsche für leicht verschmutzte Ladungen

Waschen mit heißem Wasser

Kaltwasserspülung

Heißwasserspülung

50 °C (Waschen)

62 °C (Spülung)

8 g

29 Minuten

60 Minuten

Weich

Geeignet zum Waschen von leicht schmutzigem Geschirr

Waschen mit heißem Wasser

Kaltwasserspülung

Heißwasserspülung

55 °C (Waschen)

68 °C (Spülung)

8 g

59 Minuten

60 Minuten

Babypflege

/ Schwer

Geeignet zum Waschen von Babyflaschen, öligem und schmutzigem Geschirr oder Haustierprodukten

Waschen mit heißem Wasser

Heißwasserspülung

Kaltwasserspülung

Heißwasserspülung

55 °C (Waschen)

55 °C (Spülung)

75 °C (Spülung)

12 g

89 Minuten

60 Minuten

Frucht

Geeignet zum Waschen von harten Oberflächenobst mit Wasser bei Raumtemperatur

Kaltwasserspülung

Kaltwasserspülung

Konstante Temperatur, keine Erhitzung

Nicht erforderlich

19 Minuten

/
Packaging
Emballage
Lieferumfang
Dishwasher with a 3-foot power plug x 1

Lave-vaisselle avec fiche à 3 pôles : 1

1 x Gerät mit einem 91 cm Netzstecker

Inlet hose x 1 (61 in/154 cm)

Tuyau d'alimentation (154 cm) : 1

1 x Zulaufschlauch (154 cm)

Drain hose x 1 (61 in/154 cm)

Tuyau d'évacuation (154 cm): 1

1 x Ablaufschlauch (154 cm)

Fruit basket x 1

Panier à fruits : 1

1 x Obstkorb

Cutlery basket x 1

Panier à couverts : 1

1 x Besteckkorb

Dish rack x 1

Égouttoir : 1

1 x Geschirrständer

Pitcher x 1

Pichet de remplissage : 1

1 x Krug

User manual x 1

Manuel d'utilisation : 1

1 x mehrsprachiges Benutzerhandbuch
Q & A
Q & R
Q & A
What are the external dimensions of the HAVA R01? Quelles sont les dimensions extérieures du HAVA R01 ? Welche Maße hat der HAVA R01?
Length: 16.86 inches (42.8 cm)
Width: 16.75 inches (42.5 cm)
Height: 18.05 inches (45.8 cm)
The length is 29.13 inches (74 cm) with the door opened.
Longueur : 42,8 cm
Largeur : 42,5 cm
Hauteur: 45,8 cm
La longueur est de 74 cm avec la porte ouverte.
Breite: 42,8 cm
Länge: 42,5 cm
Höhe: 45,8cm
Die Länge beträgt 74 cm bei geöffneter Tür.
Why did my dishwasher arrive with a humid interior? Pourquoi l'intérieur de mon lave-vaisselle était-il humide au moment de la livraison ? Warum wurde mein Geschirrspüler mit einem feuchten Innenraum geliefert?
Every HAVA Countertop Dishwasher is tested and inspected before shipping. As such, it is normal that your dishwater might arrive with water residue inside. There is no need to worry about product quality. We'd suggest a quick wash before the first use if you find it is needed.
Chaque mini lave-vaisselle HAVA est testé et inspecté avant son expédition. Il est donc normal que vous trouviez des résidus d'eau à l'intérieur. Vous n'avez aucune raison de vous inquiéter. Nous vous invitons à effectuer un lavage rapide avant la première utilisation si vous pensez que c'est nécessaire.
Jeder HAVA-Geschirrspüler wird vor dem Versand getestet und geprüft. Daher ist es normal, dass Ihr Geschirrspüler mit Wasserrückständen im Inneren ankommt. Es besteht kein Grund zur Sorge um die Produktqualität. Wir empfehlen Ihnen, den Geschirrspüler vor dem ersten Gebrauch kurz zu waschen, falls Sie dies für notwendig halten.
What is the maximum diameter of plates that can be put in the HAVA R01? Quel est le diamètre maximal des assiettes pouvant être placées dans le HAVA R01 ? Was ist der maximale Durchmesser von Tellern, die in den HAVA R01 gestellt werden können?
The HAVA R01 can hold plates of a maximum of 10.24 inches (26 cm) in diameter at a vertical angle or at most 11 inches (27.94 cm) plates at an inclined angle.
Le HAVA R01 peut contenir des assiettes d'un diamètre maximal de 26 cm en position verticale ou d'un diamètre maximal de 27.94 cm en position inclinée.
Der HAVA R01 bietet Platz für Teller mit einem Durchmesser von maximal 26 cm in einem vertikalen Winkel oder maximal 27.94 cm in einem schrägen Winkel.
What is the power of the HAVA R01 and what is the right voltage to use it? Quelle est la puissance du HAVA R01 et à quelle tension l'utiliser ? Welche Leistung hat der HAVA R01 und was ist die richtige Spannung, um ihn zu benutzen?
The HAVA R01 is a 950 W dishwasher. It should be used at 220-240 V for the European version and 110-120 V for the American version.
Le HAVA R01 est un lave-vaisselle de 950 W. La version européenne doit être utilisée à une tension de 220 à 240 V et la version américaine à une tension de 110 à 120 V.
Der HAVA R01 ist ein 950-W-Geschirrspüler. Die europäische Version sollte bei 220–240 V und die amerikanische Version bei 110–120 V verwendet werden.
What is the model of the inlet hose connector? Quel est le modèle du raccord du tuyau d'admission ? Welches Modell hat der Anschluss für den Zulaufschlauch?
The inlet hose connector is a standard 3/4" garden hose thread (GHT) connector. If it doesn't fit your faucet, we suggest buying a 3/4" GHT adaptor.
Le raccord du tuyau d'admission est un raccord standard 3/4 pour tuyau d'arrosage. S'il ne convient pas à votre robinet, nous vous recommandons d'acheter un adaptateur 3/4 pour tuyau d'arrosage.
Der Anschluss für den Zulaufschlauch ist ein Standardanschluss mit 1,90 cm großem Gartenschlauchgewinde (GHT). Wenn er nicht zu Ihrem Wasserhahn passt, empfehlen wir den Kauf eines 1,90 cm-GHT-Adapters.
How does the HAVA R01 drain dirty water? Comment le HAVA R01 évacue-t-il l'eau sale ? Wie lässt der HAVA R01 schmutziges Wasser ab?
You can drain the HAVA R01 by connecting it with the drain hose provided and draining the water into the sink or a container such as a bucket.
Vous pouvez vider le HAVA R01 en le raccordant au tuyau d'évacuation fourni et en vidant l'eau dans un évier ou un récipient tel qu'un seau.
Sie können den HAVA R01 entleeren, indem Sie ihn mit dem mitgelieferten Abflussschlauch verbinden und das Wasser in ein Waschbecken oder einen Behälter, wie z. B. einen Eimer, ablaufen lassen.
Can I put the dishwasher under the sink instead of on the counter? Puis-je placer le lave-vaisselle sous l'évier plutôt que sur le comptoir ? Kann ich den Geschirrspüler unter die Spüle stellen, anstatt auf die Arbeitsplatte?
The HAVA R01 Dishwasher can be used anywhere you find convenient. That said, keep in mind that the height between the sink and the drain hose should be less than 24 inches (60 cm) to enable water to drain normally.
Vous pouvez placer votre lave-vaisselle HAVA R01 où bon vous semble. Toutefois, n'oubliez pas que la hauteur entre l'évier et le tuyau d'évacuation doit être inférieure à 60 cm pour que l'eau puisse s'écouler normalement.
Der HAVA R01-Geschirrspüler kann überall dort verwendet werden, wo Sie es für richtig halten. Beachten Sie jedoch, dass die Höhe zwischen dem Spülbecken und dem Ablaufschlauch weniger als 60 cm betragen sollte, damit das Wasser normal ablaufen kann.
Do I need to add hot water to the dishwasher? Dois-je ajouter de l'eau chaude dans le lave-vaisselle? Muss ich heißes Wasser in den Geschirrspüler einfüllen?
No. All you need to do is turn the machine on and choose a cycle. Depending on the washing mode, the water will be heated automatically. Details can be found in the user manual under Wash Cycle.
Non. Il vous suffit d'allumer la machine et de choisir un cycle. Selon le mode de lavage, l'eau sera automatiquement chauffée. Vous trouverez des détails à ce sujet dans le manuel d'utilisation, à la rubrique Cycle de lavage.
Nein. Sie brauchen die Maschine nur einzuschalten und ein Programm auszuwählen. Je nach Spülmodus wird das Wasser automatisch erhitzt. Einzelheiten dazu finden Sie in der Gebrauchsanweisung unter "Waschgang".
Which logistics service does HAVA use? Quel service logistique HAVA utilise-t-il? Welchen Logistikdienstleister nutzt HAVA?
For US orders, we usually ship by UPS and FedEx, depending on the location of the warehouses. For orders to Europe, we ship by DHL, and for other remote areas with the EU, we ship by DPD.
Pour les commandes américaines, nous expédions généralement par UPS et FedEx, en fonction de la localisation des entrepôts. Pour les commandes à destination de l'Europe, nous expédions par DHL, et pour les autres régions éloignées au sein de l'UE, nous le faisons par DPD.
US-Bestellungen versenden wir in der Regel mit UPS und FedEx, je nach Standort der Lagerhäuser. Bestellungen nach Europa versenden wir mit DHL und andere abgelegene Gebiete innerhalb der EU beliefern wir mit DPD.
Why is the HAVA R01 unavailable on Amazon? Are you still selling on Amazon? Est-ce que le lave-vaisselle Hava R01 sur votre site web est le même que celui sur Amazon? Ist der Hava R01-Geschirrspüler auf Ihrer Website derselbe wie der auf Amazon?
You can now buy the HAVA R01 on our official website (havalab.com). It offers customers a better and more convenient purchasing, after-sales, and logistics experience. If you have any further questions, please contact us at service@havalab.com
Oui, il s'agit du même produit. Cependant, en raison de nos stratégies de marketing, les lave-vaisselle vendus sur ces deux plateformes auront une légère différence de prix.
Ja, es handelt sich um dasselbe Produkt. Aufgrund unserer Marketingstrategien gibt es jedoch einen kleinen Preisunterschied zwischen den auf diesen beiden Plattformen verkauften Geschirrspülern.